BOVVER BOOTS 3 EYELET
Our high quality CATEROCK brand 3 eyelet bovver boots are made of natural leather with a "LUG" type sole (screwed).
The sole thickness is 2.5 cm at the toes, while the heel sole of the boot is 4 cm thick. Such a robust sole is just waiting for you to take it on many extraordinary adventures and, together with you, to leave impressions wherever your legs carry you.
HARMONIOUS DUO
You will definitely create a harmonious duo and experience many amazing stories together. If you want to learn more about the HISTORY OF BOVVER BOOTS, read our blog article.
EFFECTIVE PROTECTION
Our 3 eyelet bovver boots have a metal toe cap so they perfectly protect your toes from potential injuries resulting from a heavy object falling on your foot.
Or during the extremely active Pogo dance at concerts or music festivals. You know perfectly well what we mean, such events are unforgettable.
HIGH QUALITY
Our 3 eyelet bovver boots also have a triple stitching on the toe box, which ensures a very durable connection between the toe box and the vamp.
Because of that, you can rely on the extraordinary robustness of our boots!
VERY COMFORTABLE
The 3 eyelet bovver boots made by us, thanks to the use of high-quality materials, guarantee very high comfort and convenience of use.
Without problem, they can serve as extremely heavy duty shoes for everyday use. After all, you may be kidnapped to an amazing concert even when you go to the grocer's to buy some bread – you can never know! It's really worth being prepared.
BOVVER BOOTS FOR YEARS
By taking good care of your boots, you can be pretty sure they will serve you for years. Of course if your feet and legs are still growing, you may grow out of your boots before they show any signs of wear.
You can find out how to properly take care of your 3 eyelet boots in our BOVVER BOOTS MAINTENANCE GUIDE.
OUR BOVVER BOOTS 3 EYELET ARE CHARACTERIZED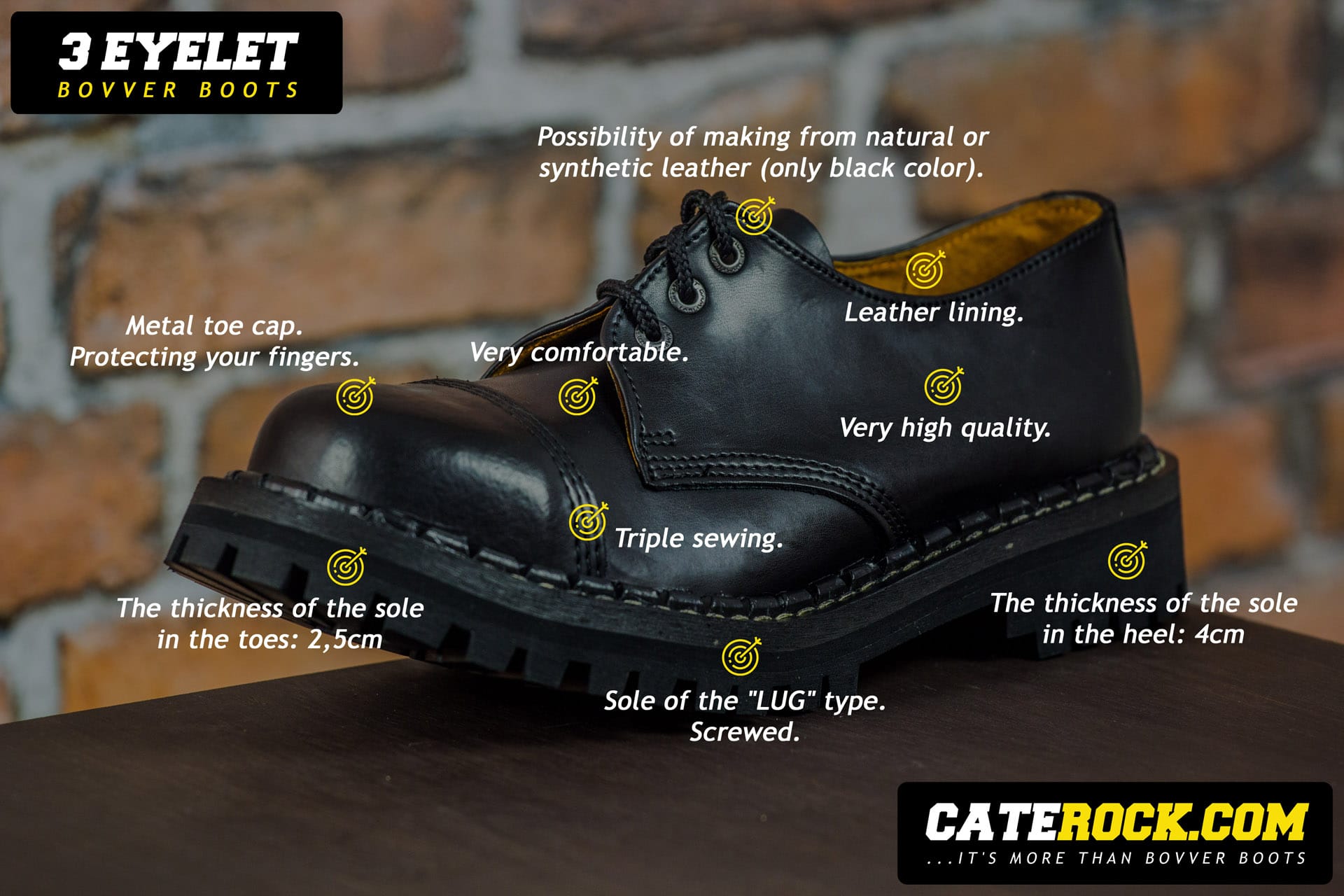 TYPE OF LEATHER:
Our boots are made of natural leather (unless you choose the VEGAN BOOTS made of synthetic leather, only available in black).
SOLE:
"Lug" type sole, i.e. screwed.
LIFT:
A metal toe cap that will protect your toes from injury in case a heavy object falls on your foot.
STITCHING:
Triple stitching on the toe box of our bovver boots ensures a strong connection between the toe box and the vamp.
SOLE THICKNESS:
The sole thickness is 2.5 cm at the toes, while the heel sole of the boot is 4 cm thick.
COMFORT:
Very comfortable, can serve as everyday footwear.
QUALITY:
High quality, we make sure that every detail is of the best quality possible.
ADDITIONAL OPTIONS AVAILABLE:
WHY ORDER BOVVER BOOTS FROM OUR SHOP?
First of all, because bovver boots are our passion. We are aware that they are not only robust footwear but also something more. Something that lets us express ourselves.
That is why our offer includes bovver boots in such a wide range of shaft heights and colours. Classic black bovver boots as well as coloured and distressed ones with various extra options (insulation, "veggie" leather).
CHOOSE AND PERSONALIZE YOUR BOVVER BOOTS: